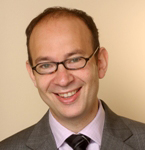 Direct:   (718) 947-7476
Fax:        (718) 355-9702
E-mail:  Gerry@lgelaw.com

Gerry Grunsfeld
Mr. Grunsfeld is a founding principal of the firm and heads the Litigation department at Lazar Grunsfeld Elnadav, where he focuses on Personal Injury and Trademark Infringement Litigation. Prior to joining LGE, Mr. Grunsfeld spent more than ten years working at two large Manhattan firms on some of the largest Personal Injury and Commercial Litigation cases in New York.
Honors and Awards:
Pro Bono and Charity work:
Mr. Grunsfeld is General Counsel to Barkai Yeshiva, and is former member of the Board of Trustees of the school.
In 2017, Mr. Grunsfeld cycled more than 60 miles as part of a 187 mile  bike-a-thon, covering three states and two grueling days of cycling in the summer heat, and personally raised more than $21,000 for Chai Lifeline, a charity dedicated to helping children with cancer and other serious chronic illnesses. In total, the 510 cyclists raised more than eight million dollars for Chai Lifeline!!!!!!!!!!!!!!! https://www.bike4chai.com
Mr. Grunsfeld is currently training for a half-marathon that will take place in January 2019 in Miami, in aid of Renewal, an organization that facilitates Kidney donations from altruistic donors. In 2013, Mr. Grunsfeld donated one of his kidneys to a stranger, through Renewal. https://www.teamrenewal.org/runner-donate/12
Education:
Mr. Grunsfeld received a JD Laws from Kings College London (a top-five ranked UK law school).
Recent Reported Decisions of Note
Lifeguard Licensing Corp. v. Kozak, 2019 WL 1386670, (S.D.N.Y. March 12, 2019)
Lifeguard Licensing Corp. v. Ann Arbor, WL 3364388, (S.D.N.Y. July 9, 2018)
Lifeguard Licensing Corp. v. Kozak, WL 435852, (S.D.N.Y. Jan. 31, 2017)
Lifeguard Licensing Corp. v Ann Arbor, WL 3748480 [SDNY July 8, 2016]
Lifeguard Licensing Corp. v Kozak, WL 3144049 [SDNY May 23, 2016]
Ann Arbor T-Shirt Co., LLC v Lifeguard WL 1323784 [ED Mich Apr. 5, 2016]
Pfeifer v Groisman, 123 AD3d 684 [2d Dept 2014]
UTC Fire & Sec. Americas Corp., 844 F Supp 2d 366 [SDNY 2012]